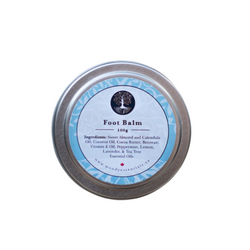 Moody Essentials Co.
Foot Balm
Show your feet some love with this moisturizing and refreshing foot balm.
Made with healing calendula and moisturizing cocoa butter, this foot balm soothes and softens dry, tired feet. It moisturizes, relieves dry skin and calluses, and leaves your hardworking feet feeling refreshed and revitalized. Your hot, tired feet will thank you.
Ingredients: sweet almond and calendula oil, coconut oil, cocoa butter, beeswax, Vitamin E oil, peppermint, lemon, lavender, & tea tree pure essential oils.
100 g