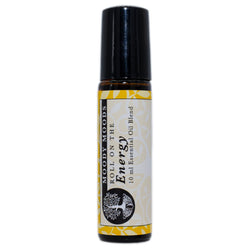 Moody Essentials Co.
Roll on the Energy
Roll on the Energy is a stimulating blend of sweet, fresh, citrus, minty and herbaceous. As the name suggests, Roll on the Energy is energizing and uplifting to both the mind and body and helps to improve mood.
Roll on your pulse points, soles of your feet, back of your neck, over your heart, or add to the lava beads in your aromatherapy bracelet.
This blend is comprised of certified 100% pure wild orange, lemon and peppermint essential oils in a fractionated coconut carrier oil.

Wild orange is energizing, invigorating and renewing, known to uplift mood and energy levels, help relieve stress, anxiety and fear, and is very purifying.
Lemon is uplifting, invigorating and refreshing, known to perk up your mood, find mental clarity, reduce stress, and may even boost your brainpower,
Peppermint is fresh and cooling, known to increase alertness and energy.