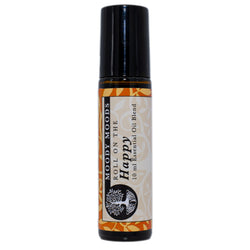 Moody Essentials Co.
Roll on the Happy
Roll on the Happy is a cheerful blend of fresh, citrus, floral and spicy. As the name suggests, Roll on the Happy is relaxing, soothes anxious feelings, helps to manage stress, and promotes feelings of peace and overall wellness.
Roll on your pulse points, soles of your feet, back of your neck, over your heart, or add to the lava beads in your aromatherapy bracelet.
This blend is comprised of certified 100% pure frankincense, tangerine and lavender essential oils in a fractionated coconut carrier oil.

Frankincense essential oil is comforting, strengthening and healing, known to boost immune system function, reduce feelings of anxiety and stress, and promote an overall feeling of well-being.

Tangerine is calming, clearing, and uplifting, believed to reduce feelings of sadness, irritability and impulsiveness, and promote emotional balance.
Lavender is calming, regenerating and soothing, known to alleviate stress and anxiety, and promote relaxation.